Après avoir réimaginé les plus grands albums de pop-punk en compilations de berceuses, le duo d'Indianapolis Sparrow Sleeps publie son premier album studio, et répond à la Pop Interview!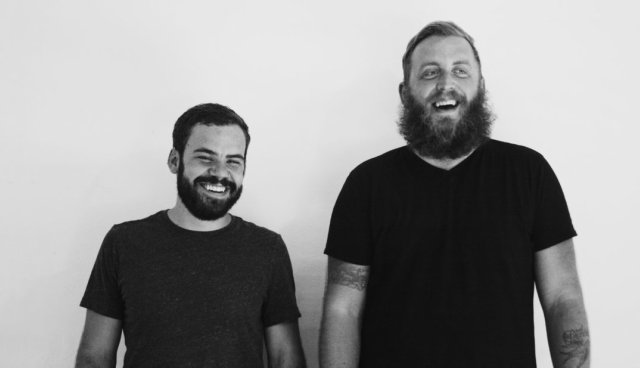 Attention, cette sixième Pop Interview ne concerne pas un collectif musical comme les autres. Orchestré par Casey Cole et Peter Lockhart, Sparrow Sleeps était initialement un projet intime de reprises d'albums cultes de la sphère pop-punk, sous la forme de berceuses pour enfants. Après une première rencontre concluante par le biais de relations communes de la scène d'Indianapolis en 2008, les acolytes décident de rester en contact, en cas de toute initiative potentielle de business en commun.
Suite à la naissance de sa fille Sparrow en 2011, Casey décide de retravailler ses morceaux préférés et en tire des berceuses, partagées sur la toile et rapidement découvertes par les passionnés. Fin 2014, alors que les deux membres travaillaient déjà ensemble au quotidien sur des dossiers plus conventionnels (création et distribution de matériel promo pour l'autre entreprise de Casey), ils décident de monter Sparrow Sleeps comme un véritable acte musical, à hisser le plus haut possible.
Ils se lancent alors dans la création de multiples albums couvrant les plus grands groupes du genre: blink-182, MXPX, Jimmy Eat World, Cartel, Taking Back Sunday, The Gaslight Anthem, etc. Toujours basé dans l'Indiana, le duo décide de s'entourer des leaders de ces groupes pour donner naissance à un album studio pour grands enfants, au titre équivoque: Sparrow and Friends Start a Band.
Parmi ceux-ci, on retrouve un casting inédit et très costaud, avec entre autres Ryan Key de Yellowcard, Aaron Marsh de Copeland, Ace Enders de The Early November et Matt Pryor, l'idôle absolue de Peter, la moitié de Sparrow Sleeps qui répond à nos questions ci-dessous!
—
Ta série préférée?
The Walking Dead.

Ton film préféré?
E.T. de Steven Spielberg.

Ton groupe ou artiste solo préféré?
Matt Pryor.

Ton album préféré?
Something to Write Home About de The Get Up Kids.
Ton morceau du moment?
Enola de I Can Make a Mess.
Ta chanson ou album 'plaisir coupable'?
Bigger Than Both of Us de Hall & Oates.
Ton meilleur concert en tant que spectateur?
Brand New au Metro (Chicago) en 2005.
Le dernier film que tu as vu?
Deadpool.
Le dernier morceau que tu as écouté?
Go Home de Julien Baker.
Si tu étais sur une île déserte et que tu ne pouvais emporter qu'une seule oeuvre?
Est-ce que Bear Grylls a bien écrit un bouquin? Si oui, ce serait son livre. 🙂

Si tu pouvais avoir un seul super-pouvoir?
J'ai vu Aladdin et aucune restriction ne m'ayant été donnée de votre part, mon super-pouvoir serait de m'octroyer encore plus de super-pouvoirs. 🙂

Si tu pouvais partager l'affiche avec n'importe quel artiste pour un concert?
J'embarquerais sur une tournée Where's the Band? (membres solo de Saves the Day, Alkaline Trio, …).
S'il ne fallait garder qu'un site sur tous les internets?
Google.com.
Ta collaboration rêvée?
J'ai le sentiment que notre premier album Sparrow and Friends Start a Band a déjà concrétisé nos rêves.
Si tu n'étais pas musicien, tu serais quoi?
À côté de Sparrow Sleeps, je suis actuellement à la tête d'une entreprise de design et de développement d'apps mobile et web. Je continuerais donc cette activité à plein temps.
Et si tu étais un animal?
Un chien.

Un mot final?
Cowabunga!
Suivre Sparrow Sleeps: Facebook | Site officiel | Album | YouTube